Protesters occupy Shoprite in Khayelitsha. (Dalli Weyers, GroundUp)
Cape Town - Protesters occupied Shoprite in Khayelitsha Mall on Tuesday morning, demanding a reduction in the price of bread, reported GroundUp.
The Shoprite store was closed during the occupation.
A witness told GroundUp that the protesters were eventually escorted out of the store.
Private security guards in bulletproof vests and carrying rifles were patrolling the area.
The protesters came together under the social media hashtag #ThePriceOfBreadMustFall.
They have expressed solidarity with protesters demanding lower university fees who are using the hashtag #FeesMustFall.
Earlier on Tuesday, the photo below was being circulated on social media.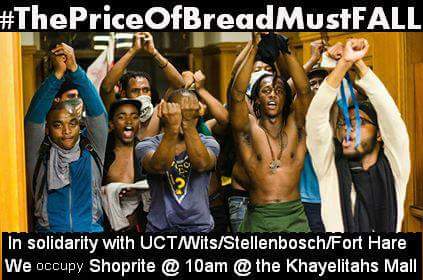 We live in a world where facts and fiction get blurred
In times of uncertainty you need journalism you can trust. For 14 free days, you can have access to a world of in-depth analyses, investigative journalism, top opinions and a range of features. Journalism strengthens democracy. Invest in the future today. Thereafter you will be billed R75 per month. You can cancel anytime and if you cancel within 14 days you won't be billed.