Family members tend to ask a gazillion questions if they find out you are going on a date. "What does he do?", "Is he cute?", "Where is he taking you?"...the list goes on.
Well, 27-year-old New York-based comedian Mary Beth Barone found a brilliant quirky way to deal with her curious family, reports Buzzfeed.
READ MORE: Grandfather makes a list of what kind of a man his granddaughter should date and makes us miss our tatomkhulus
Mary planned to go out with a guy she met at a wedding. However, their first date was supposed to happen during her family vacation at Pompano beach in Florida.
She knew it would be near impossible to sneak past her big family of 30 members, so she came up with a plan on how to go on the date without being interrogated by her inquisitive relatives.

She decided to create pamphlets that have her family's dating-related 'frequently asked questions' with answers. She printed them out and distributed them before dashing off.
She titled the pamphlet, "I'm going on a date while we are on vacation". Adding: "Here's everything you don't actually need to now but definitely will ask."
On the inside of her pamphlet, she advised her family to keep calm and included a picture of a tranquil blue ocean to help calm their racing minds.

READ MORE: Five outdated dating rules
Under the "frequently asked questions" she hilariously addressed all the concerns and questions she knew they would have about her potential beau.
She answered questions such as: "Who is this guy?", "how old is he?" and "where does he live?" among others.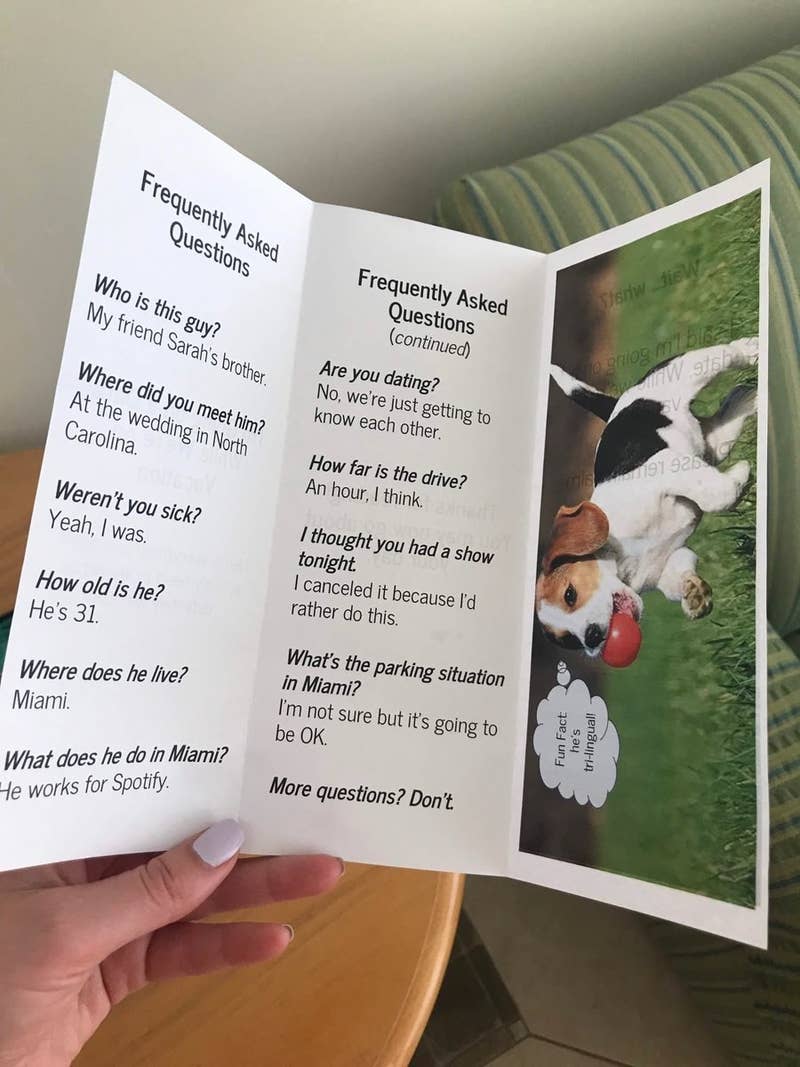 She shared the images of her genius pamphlet on Twitter and her innovative strategy quickly went viral with more than 50 000 likes and 5 000 retweets.
A lot of people gave her idea a seal of approval, relaying their own stories of how they could relate.
stealing this the next time I go out with someone ??
"Where are you going?"
"I made a pamphlet."
"What?"
"I made. A pamphlet."

— Gillian (@gill_abrams) May 1, 2019
this feels very much like the lower key version of a thing I did, which is that when I came out I sent my whole extended family a 10 page FAQ and said "here you go, if you have questions, please consult this first"

— Jaz Twersky (@WordNerdKnitter) May 1, 2019
Im going to use this and I'll make both an English and Spanish version and offer up either or and it'll be hilarious

— Bee (@MighteaBee) May 2, 2019
READ MORE: 5 matters you should not discuss on the first date

According to MSN Lifestyle, the comedian's family loved her funny idea. "They all have a great sense of humor! I am the youngest of six kids and my family is huge and super close.
"There were about 30 people on the trip so it was a lot of people to communicate the information to. They all laughed and had a good time with it," she said.
Since some of her followers were curious about how the date went, she explained that while she believes the date went great, the guy ghosted her soon after.
"But at least I got the pamphlet out of it," she said.
Definitely his loss Mary!
Will you ever try the pamphlet method? Chat to us here.
Sign up to W24's newsletters so you don't miss out on any of our hot stories and giveaways.